The increased growth of cryptocurrency market has seen many new entries into the exchange arena, but one of the oldest cryptocurrency exchanges is also one of the most popular.
I'm talking about Huobi, a Singapore based cryptocurrency exchange that's been in operation since 2013. It's well known for its focus on its clients, and for its independent cryptocurrency analysis. With its global headquarters in Singapore and additional offices in South Korea, Japan and Hong Kong it has a focus on Asian investors. There is a U.S. office in San Francisco, however as of July 2018 Huobi does not accept U.S. customers. Huobi has stated that it is working on offering its services to U.S. clients as quickly as possible.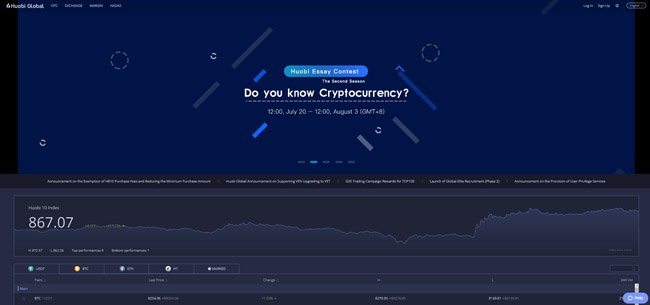 In this review I'll be looking at trading on Huobi as well as the features offered by the exchange. That will include security features, coin pairs, trading tools and the customer service model; which Huobi says was the first 24/7 cryptocurrency exchange customer service group. Finally I'll take a look at the special investor protection fund kept by Huobi.
Huobi Review: Signing up for a Huobi Account
Like most cryptocurrency exchanges I've looked at, Huobi makes it easy to register for an account. You'll see the "Sign Up" link clearly visible in the upper right corner of the homepage for Huobi. As you can see, one of the fields that needs to be complete is the country of origin, and it also warns you that this cannot be changed once the account is created. Huobi will accept clients from 130 different countries, however the U.S. is not among them.

You can sign up using your email or a telephone number. You are warned that if you use an email address the verification email could be marked as spam and you should check your spam filter if you don't receive the verification email.
After creating the account and clicking the verification link sent to you it's time to log in. The first time you do so you'll get a welcome screen which will also ask if you want to purchase cryptocurrency using Chinese Yuan, Singapore dollars or U.S. dollars. You can also transfer cryptocurrencies you already own to the exchange.
Huobi Review: Trading on Huobi
Once your account is ready to go and funded you'll want to have a look at the basic exchange. The pairings available at Huobi are BTC, ETH, HT and USDT. Both BTC and ETH have over 100 pairings, while there are roughly 50 USDT pairings, but just a dozen or so HT pairings. The prices are shown in both USD and in terms of the trading pair.
The primary trading screen contain pretty much all the information you need. You'll see all the trading pairs on the left in a sidebar, and the chart and order book information can be pulled up by clicking the pair you're interested in trading.
The top of the trading screen is dominated by the price chart. These charts are powered by Trading View and give you access to the widest range of technical analysis tools available for cryptocurrencies. It also allows you to customize the chart in a number of ways.
Below the price chart is the order form, where you can buy and sell cryptocurrencies. Both market orders and limit orders are supported on Huobi. To the right of the order form is the recent order history for the selected pair.
At the bottom of the page is a chart of the market depth, a running ally of trades, a news section, and a detailed information screen for the coin being traded.
The Huobi screen allows potential traders to get a complete picture of the pair in little more than a glance, and provides more detailed information about price movements and technical analysis where needed. The trading screen setup helps streamline your research and analysis, and is one of the better trade screens I've seen. It's probably one of the reasons that Huobi is so popular with traders.

Other Trading Options on Huobi
Besides the main trading platform, Huobi offer two additional trading platforms, HADAX and OTC. I'll give brief explanation of both below.
HADAX
The acronym HADAX stands for Huobi Autonomous Digital Asset Exchange, and it's a platform meant for professional traders as it allows access to riskier crpytocurrency investments. On HADAX there is no independent verification of the investment value of the tokens and coins registered on the HADAX system. Tokens get added to HADAX through a user voting system. Once users vote for tokens HADAX verifies the authenticity of the token before listing it. HADAX users are required to meet minimum investment standards due to the more speculative and risky nature of the tokens listed on HADAX.
Huobi also uses HADAX as a proving ground for new coins. Coins and tokens accepted to HADAX have the potential to be added to the main Huobi trading platform, as long as they meet the investment standards set by Huobi. Also, coins that are removed from Huobi can still be listed on HADAX.
Over the Counter (OTC)
The Over-the-Counter or OTC section of Huobi is for traders who are looking to buy or sell large volumes of coins without being at the mercy of the market order book and liquidity. Merchants must become certified to trade here, and buyers and sellers are matched directly, which reduces slippage.
An OTC trade is likely to be used when the volume of cryptocurrencies being bought or sold could move the market by itself, or when time is a factor.
Margin Trading at Huobi
Unlike many other cryptocurrency exchanges Huobi does allow margin trading. This is a risky method of trading where funds are borrowed from the broker to place trades, with the asset bought serving as the collateral for the loan. Margin trading can be used to magnify gains, but it can also magnify losses. One benefit of margin trading is that both long and short positions can be taken.
Margin trading requires a deep understanding of markets and trading, and should only be undertaken by seasoned, experienced traders. Successful trades can be extremely profitable, but losing trades have the potential to wipe out a traders account.
Huobi will require you to confirm an additional Lending Transaction Agreement before taking part in margin trading.
Huobi is extremely useful for any type of trader. It's basic features are a good starting point for beginning traders, while the technical analysis offered in the price charts is suitable for intermediate traders. And even advanced traders will find something useful, with the OTC market offering larger trades and minimal slippage, while the standard platform offers potentially lucrative margin trading. And let's not forget HADAX, where even small investments offer the potential to see a coin go to the moon.
Huobi Review: Fees

While Huobi has some complexity in its trading options, the fee structure has been kept simple. On almost all trading pairs both the maker and taker fee is 0.2%.
Maker fees are assessed when adding liquidity to Huobi's order book via a limit order under the last buy trade price and above the last sell trade price. Taker fees are likewise assessed when liquidity is removed from the order book via an order executed against the given order. The fees are always deducted from the executed total in the value of the final coin.
For those who have invested in the Huobi native token, called the HT, there is the ability to enter into a tiered discount program that will discount trading fees from 10% to 50%.
Huobi Token: Huobi's Native Cryptocurrency
Huobi has created its own native token, much in the same was as KuCoin has the KCS and Binance has its BNB token. The Huobi token is known as the HT and it can be purchased via the exchange. It is also given out as part of new user rewards programs and loyalty programs. There is a total supply of 550 million HT, and Huobi is buying back a certain percentage of the coins regularly to maintain an emergency fund. As of late July 2018 HT is trading at $3.38, up from the $1.40 range at the start of the year.
Huobi Review: Security
The Huobi exchange has international banking level security, with assistance in security and risk control being provided by Goldman Sachs. In addition, the exchange is buying back HT tokens to create and maintain and investor security fund. On a network level the exchange already benefits from the decentralized and hardened anti-DDOS structure, while the exchange level uses a complex cryptocurrency analysis system to detect potentially malicious coins and keep them from being traded on the platform.
Huobi does make use of ID verification to know who their clients are, and on the client accounts themselves two-factor authentication is available to protect trades and withdrawals. Huobi keeps 98% of investor funds in cold storage so there is very little assets in hot wallets and susceptible to hacking. Huobi has been the target of hacking attempts, but as of July 2018 there have been no customer assets lost to hacks.
I mentioned earlier about the investor security fund that is maintained by Huobi, and it bears a little deeper investigation to understand the role it plays.
The exchange sets aside 20% of all transaction fees collected and puts them to use in buying its own HT. Those tokens are then kept in cold storage in the event of a client loss, in which case they would be used as compensation. It's like the FDIC of cryptocurrency exchanges for Huobi, and demonstrates their commitment to their clients, to the industry, and to their leadership role within the community.
In addition to the HT kept in reserve, it's been reported that Huobi also keeps 20,000 BTC in reserve and stored in an independent address. So, the combination of HT and BTC are being held in the event of any future catastrophic losses, in which case clients could be compensated from the exchanges own reserve funds. Note that these funds aren't used for individual cases of phishing or hacking, but are there as a protection against losses from an exchange wide attack. Estimates indicate that the 20,000 BTC reserves have greater value than the hot wallet capacity of Huobi, so it's believed that Huobi would be able to fully replace client funds if the exchange suffered a devastating hack.
Huobi Review: Customer Support
Huobi prides itself on having the very best customer support in the entire cryptocurrency industry. And honestly I can't argue with that claim based on everything I've read. It was the first exchange to implement a 24/7 customer service model, which was based on the customer service coverage for traditional markets. The 24/7 model also demonstrates a commitment to clients, and the global reach of Huobi. Even customers who are on the other side of the globe from the Huobi headquarters can receive immediate support day or night.
You'll find complete FAQ and help sections on the Huobi website, and they provide very complete coverage of all the basic issues you might encounter. My only complaint is that they are distributed by platform and topic rather than being a complete document. Some users might find this more convenient though, as it puts the topics right at hand, where they presumably would be needed.
In Conclusion
With all the features it offers, so many trading pairs, and great customer service too it's no surprise that Huobi if the fourth largest global cryptocurrency exchange with over $700 million in daily trading volume. And it's encouraging to hear that they are working on complying with U.S. regulations so that U.S. citizens can also take advantage of the platform and all it brings. In fact, opening up registrations to the U.S. should bring Huobi into the top three global exchanges.
The independent analysis of coins by Huobi before adding them to the platform is a great help to traders since it removes the burden of researching hundreds of marginal coins and tokens to find the best. With Huobi traders can find opportunities without worrying about the legitimacy of the project issuing the token or coin. And the advanced technical tools are increasingly valuable as the cryptocurrency space matures. Finally, the access to HADAX and OTC gives more advanced traders access to liquidity and riskier coins that provide the opportunity to double, triple or more in price within weeks if not days.
It's also great to see how much emphasis Huobi places on security, with the platform working to reach the level of global banks in their security protocols. The security is obviously working as well, since Huobi has never lost any client funds to hackers, despite being the target of hacking attempts. And users can put extra protections on their funds through the use of two-factor authentication and strict identification standards. It's also unique in cryptocurrency exchanges in that it puts aside BTC and its own native currency as an insurance fund against potential losses. This feature is standard in traditional markets, and it's a great addition for cryptocurrency markets as well.
All of these things make Huobi the total package for beginning through advanced cryptocurrency traders. The easy to use charts can be used by beginners, but advanced features will appeal to experienced traders looking for more data, more analysis or more opportunities. Margin trading, emerging cryptocurrencies and high liquidity are all attractive to the experienced trader.
Once Huobi is able to offer its services in the U.S. it should see explosive growth, which will benefit the platform, and the HT token.
Huboi
Rating:
4.5
- Review by
Steve Walters.