As you've probably heard time and time again, security is (or should be) your number one concern when it comes to your cryptocurrencies. Keeping your assets safe isn't always easy, but there are two great products that have made it easier.
Let's have a look at these two cryptocurrency storage options that together have kept tens, if not hundreds, of millions of dollars in cryptocurrencies safe from the predations of hackers.

Of course, I'm talking about the Trezor Model T hardware wallet and the Ledger Nano S hardware wallet.
Who Needs a Hardware Wallet
The short answer is that hardware wallets provide you with the highest level of security when storing your cryptocurrencies. It will protect them in the event that your computer somehow becomes compromised with malware or some virus that could cause your coins to be stolen right out from under you.
They will also protect you from so-called "phishing" websites that masquerade as legitimate cryptocurrency sites but are actually set up by scammers to steal your private keys and your coins.
When you use a hardware wallet no one sees your private keys, not even you. They remain stored on the hardware wallet and can only be accessed by physically entering the PIN code on the device. That's something no hacker can do from afar.
It's even possible to restore your wallet on a new device if the current hardware wallet is somehow lost, broken or stolen. By using the seed phrase created during the setup of your hardware wallet you can restore your coins in the future, and avoid the heartbreak of losing your coins because of some mishap.
If you have any meaningful cryptocurrency investment you should be using a hardware wallet. It is quite simply the most secure cryptocurrency storage option, and one of the best things you can do to protect your crypto-assets.
Trezor vs Ledger: Two Excellent Hardware Wallets
The Ledger and Trezor are both highly respected within the cryptocurrency community for providing solid security. The devices are both excellent at storing and safeguarding your private keys and all the supported digital assets.
Trezor Hardware Wallet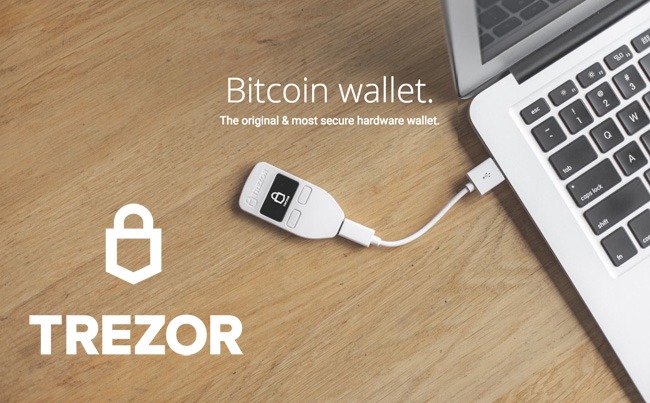 In essence, the Trezor is an offline, cold storage wallet that is designed for security and to provide users with peace of mind, knowing their cryptocurrencies are close at hand and secure. Even when it is used in conjunction with your computer, it keeps your private keys away from prying eyes and shady characters. It's been noted online by many users that it is the most secure and trusted way to store cryptocurrencies. Have a look at our detailed Trezor review for more information.
Ledger Hardware Wallet

The Ledger is another secure hardware wallet, made specifically to keep your cryptoassets secure. It has the form and look of a USB drive, so will feel familiar to most users. Its safety features make it ideal for storing cryptocurrencies, and it can be used securely to make cryptocurrency payments. Like the Trezor, we've reviewed the Ledger previously if you want to have a look.
Trezor vs Ledger: Hardware Wallet Appearance
The Trezor is the smaller of the two devices, although it has a larger display screen. It is also made of plastic, where the Ledger has a stainless steel casing for maximum physical resilience. Certainly, the Trezor is also damage-resistance, but it seems safe to say that the Ledger's stainless steel case gives in the edge in physical strength. I also feel like the Ledger looks better, and its USB-like shape is superior.
Both devices have two physical buttons that are used to approve transactions, and to control the system software. Both have display screens and mini-USB ports for connection. Overall, both devices have their plusses and minuses when it comes to appearance, but for me the Ledger is more appealing.
Trezor vs Ledger: What comes in the Box
Both devices come with a similar set of items included with their purchase. Let's look in the box.
Trezor Box Contents
The Trezor is packaged in a small bow that has been safety sealed to prevent tampering. Inside the box, along with the device itself, you'll also find the following items:
A USB cable for connecting to a computer
A lanyard for ease of carrying the Trezor
A User manual
2 recovery seed cards
A number of Trezor branded stickers
Ledger Box Contents
You'll find much the same in the Ledger box, including the safety seal on the outside to prevent tampering. Besides the device itself you'll get the following:
A USB cable for connecting to a computer
A lanyard and keyring for ease of carrying the Ledger
A User manual
A recovery seed card
Trezor vs Ledger: Hardware Wallet Usage
The Trezor is compatible with desktop and laptop computers running Windows, MacOS and Linux, and it also support the use of mobile devices running the Android operating system. This could be disappointing to Apple iPhone users. You can also use a Google Chrome extension to manage your Trezor Model T.
Using the wallet is simple, and the user interface is cleanly designed and intuitive. You can tab between send and receive in the transaction view, and switching between cryptocurrencies is done via a drop-down on the left of the screen, or through the Trezor online tool.
When it comes to the Ledger, you will find hardware support for computers running the Windows, MacOS, Linux and Chrome OS. Cryptocurrencies are managed through apps on the Ledger, and the Google Chrome browser with some extensions is needed to properly manage these apps.
The Ledger user interface is also well designed, clean and easy to use. Ledger Nano S also recently added a feature called Ledger Live, which allows you to manage all your cryptocurrencies stored on the Ledger from a desktop application.
The Trezor is great because it allows you to keep all of your cryptocurrencies in one location. The Ledger does limit you to 18 different coins, which could mean some of your coins have to be stored elsewhere if you're a serious cryptocurrency collector.
Both have very nice, clean and easy to use interfaces, making either hardware wallet easy to use. The Chrome app for managing the Trezor is a nice addition, but the Ledger Live app for the Nano S feels far more professional and polished. Plus it does make managing the assets on your Ledger a breeze.
Trezor vs Ledger: Cryptocurrency Support
Depending on which coins you hold and how many coins you hold, cryptocurrency support could be the determining factor between choosing a Trezor or choosing a Ledger. Or you could go all in and just use both. Let's see which cryptocurrencies are being supported by each hardware wallet.
Trezor
Trezor supports more than 500 coins and tokens including Bitcoin, Litecoin, Dash, Zcash, Bitcoin Cash, Bitcoin Gold, Ethereum (+ all ERC20 tokens), Ethereum Classic, Expanse, UBIQ, NEM, and Bitcoin Testnet. Refer to trezor.io/coins for the complete list of supported cryptocurrencies. While not currently supported, the Trezor team is working on support for the following popular coins:
Ledger
Ledger currently has support for 712 different cryptocurrencies. However, it does not currently support Monero, Cardano or Tezos, and most of the cryptocurrencies supported by the hardware wallet are not supported in the desktop Ledger Live app. Plus, as I mentioned before, you are limited to storing no more than 18 different cryptocurrencies at a time on the Ledger.
It's an interesting historical note that Trezor was the very first hardware wallet for storing Bitcoin, but Ledger became the very first hardware wallet for storing Ethereum. Both wallets are continually seeing software updates, and support for coins being added as well as new functionality. Choosing one of these devices based on cryptocurrency support can be a challenge.
One determining factor would have to be the 18 cryptocurrency limit for Ledger. You might also consider the lack of support for some coins on either device. At the end of the day, it's a very close race between the two for this factor.
Trezor vs Ledger: Device Setup
Both hardware wallets have similar setup routines, and most users will be able to setup their Trezor or Ledger in 10 minutes or less. Both devices also make use of a PIN code for device access as an added security measure, and accessing the device will be extremely difficult for anyone who doesn't have this PIN. There is even a feature that deletes all the data on the wallet if three incorrect PIN attempts are made.
There is full recovery seed support if needed, and for added security the seed will be shown on the device screen, but not on the computer screen. This makes it increasingly impossible for any hackers or scammers to steal your cryptocurrencies.
Nearly all operations are controlled by the buttons on the Trezor and Ledger devices, although the Trezor Model T also comes with a touch screen. The buttons are used to scroll through menus and to make selections, as well as confirming transactions. In both wallets it is impossible to access any of the data contained on the wallet without first connecting them to a computer via USB and then inputting the correct PIN code.
Trezor vs Ledger: Conclusion
Both the Trezor and the Ledger work very well as cold storage wallets, and both can be used to send and receive coins. They also include the ability to monitor on-screen transactions and to view all of your transaction and operation history. In this way they are equal.
They are not equal when it comes to their software, with the Trezor having an edge in usability and features, including the ability to synch with a DropBox account. The Trezor also gives you the ability to create an unlimited number of hidden accounts, and has a password directory that can be accessed easily by the owner. There is no comparable functionality with the Ledger.
Both the Ledger and the Trezor can store hundreds of different coins, although the Ledger does have support for more than the Trezor. Offsetting that is the fact that you can only store a maximum of 18 different cryptocurrencies at one time on the Ledger. If you have a specific coin you'd like to hold in your hardware wallet you should definitely check the lists of supported coins to see if yours is supported.
Finally, it's important to note that the Trezor Model T has a price tag of €149, while the Ledger Nano S is just $99 (on sale as of October 21, 2018 for just $79). If you're cost conscious you'll probably agree that without some hugely compelling reason to get the Trezor, the Ledger is a much better deal at half the price.
Price aside it's not easy to say for certain which one is a better device. You'll certainly get solid cold storage of your cryptocurrencies no matter which one you choose. Ultimately it might just come down to which coins you need support for, or which wallet you like the looks of better. Some will certainly prefer the familiar USB drive look of the Ledger, while others will appreciate the larger screen and buttons on the Trezor.
The most important point is that you get a hardware wallet that keeps your cryptocurrencies safe and secure from bad actors.